Choosing a new garage door is an important decision for your home. With so much choice out there, you need to do your research to find the best solution in terms of functionality, security, aesthetics and budget.
Sectional garage doors are very versatile and may be just what you're looking for. Take a look at these 5 benefits to help you reach the right investment decision for your garage.
1 – Protection from the elements
Do you consider your garage to be part of your home's interior or exterior? Whether you store a valuable sport car or the trusted family car in the garage, or use the space as a home office or gym, it's important to protect it from the elements.
Wind, autumn leaves, garden debris, even rain and snow can all find themselves into the garage and it can be a right nuisance to constantly having to keep the Great Outdoors at bay. Unless, that is, you install a sectional garage door, which will come with a floor seal. Problem solved.
2 – Excellent security
All entry points to your home, including garage doors, should offer the most advanced security features to protect you, your family and your belongings. The advantage of sectional garage doors is that they have minimal pivot points, which makes them very hard to break into.
As we all know, most break-ins are opportunity based. Faced with a sectional garage doors, burglars will be put off even trying to overcome the doors' obvious security features. Job done.
3 – Good for small driveways
Homeowners not blessed with a large driveway will be only too aware of the added problem of garage doors. Trying to park the car, then squeeze into or out of the car without damaging the bodywork is bad enough without a rogue garage door to navigate too.
The beauty of a sectional garage door is that you can drive right up to it. There are no doors to swing out; the garage door opens and rises vertically. The benefit is even greater if you have a larger car, meaning more space inside and no worries about drive through width.
4 – Good for unusual garage openings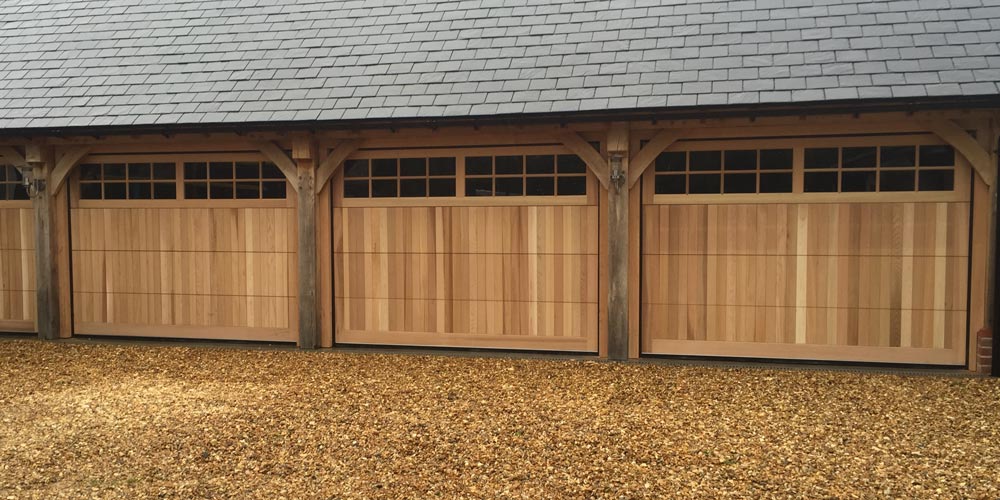 If your garage has an unorthodox opening it can be nigh on impossible to find a garage door that fits. However, sectional garage doors can work with a wide range of entrance shapes, including arched and domed shapes.
If you're not sure whether your garage entrance would be right for a sectional garage door, why not take a picture of your garage opening and show it to us? Our garage door experts will be happy to talk you through all the available options.
5 – Manual or electric opening
Many home owners have strong preference towards manual or automatic garage doors. Whichever you prefer, sectional garage doors can be fitted with either option. The best way to make a decision is to visit the showroom to see and try out both in person. That way, your purchase decision will be based on information and experience.
If you're curious to find out more about our wide range of our sectional garage doors from many major manufacturers, or to arrange for a free quote, please contact us here or call 0800 294 2002.