If you are in the process of buying a new garage door, the endless types and varieties on offer can be rather daunting. Choosing to automate your garage door is a further option available to you.
So if you need some help understanding electric garage door openers and their features and benefits, our guide below includes everything you need to know, helping to make the the process as simple and stress-free as possible!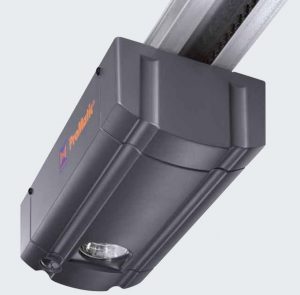 What is an electric garage door opener?
An electric garage door opener is an electromechanical device used to open and close a garage door remotely. Utilising a variety of hard-wired access controls, they can be used to automate all types of garage door, including those which have already been installed.
The current electric garage door openers available on the market today generally operate at a frequency of between 433MHz and 868MHz. They usually rely on rolling code technology (also sometimes called hopping code) which is a keyless entry system designed to prevent the security code from being copied and duplicated.
What are their benefits?
The primary, and most obvious, benefit of an electric garage door is its convenience. Electric doors offer quick and simple automation at the touch of a button. Not only is this great for busy families or professionals, but the increased accessibility means they are ideal for those who may find it difficult to manually lift a garage door. In addition, if you opt for an electric opener which uses a remote control you won't even need to leave the comfort of your car – perfect for those cold and wet days!
A further benefit of electric door openers is the higher level of security they provide. Garage doors which use handles and locks are much more vulnerable to thieves and vandals.
What are the features of an automated garage door?
Electric garage doors offer a host of innovative features, including:
Soft start and soft stop – Originally developed to reduce the stress on the door and its mechanism, soft start and soft stop technology ensures the door opens and closes in a careful, controlled manner. Not only does this improve the door's reliability but it also means it opens and closes quietly and gently.
Safety features – Automated doors must comply with certain safety regulations and, as such, almost all new doors now feature electronic surge sensor technology. This means that if an obstruction or obstacle is detected within the opening of the door, the motor will be stopped immediately and the door will be reversed.
External emergency release – If your garage door has only one entrance, an external emergency release device will be required. This will allow the door to be manually operated in the event of a power failure.
Methods of entry – Electric garage doors use a variety of controls, allowing you to choose the method of entry which best suits your needs. The options include digital keypads, electric keyswitches, card reader systems, fingerreader systems and wall-mounted push buttons.
---
Here at CDC Garage Doors, we specialise in the supply, installation and maintenance of a huge range of garage doors, including automatic garage doors. For more information on electric garage doors, and to discuss your needs with one of our experts, get in touch with our professional team today.
Image Credits: 1