Choosing which garage door to have fitted for your home is an important decision. Most garages are visible from the front of the property and therefore need to be aesthetically pleasing as well as secure. The good news is that there are more options for you to choose from now than ever before. The two main materials used for garage doors are wood and metal, each with their own unique benefits when fitted for your garage.
In this article we'll explore the benefits of each material so that you can decide which will best suit your budget and your requirements.
The Benefits of Wooden Garage Doors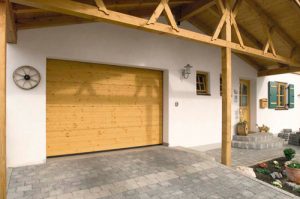 The first and most obvious thing a wooden garage door offers you is a touch of luxury. You'll no doubt have noticed a growing trend in the affluent suburban areas where wooden garage doors have been used to boost aesthetic beauty of the property. This is often something which is coupled with other wooden trimmings such as window frames and fascias.
When you think of a wooden garage door you might only be able to conjure one particular style, but you can actually get a variety of wood styles, giving you a greater variety of grains and depths of colour. Pair the right garage door with your other finishings and you'll get the ultimate look for your home.
An added bonus for wooden garage doors is their insulative properties. So if you plan on using your garage for more than just storage then you can ensure a certain level of thermal comfort. This is especially important if your home is joined to your garage as a wooden door will prevent less heat being sucked from your home.
The Benefits of Metal Garage Doors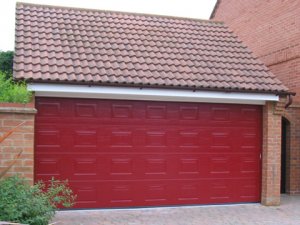 While a wooden garage door might have the luxurious appeal, they can often be more expensive than a metal garage door. For this reason, many people opt for a metal garage door since it suits their budget better and might even pair better visually with their home.
Metal doors are also low maintenance since you don't have to perform any sanding, coating, painting or sealing – which is a periodic must for a wooden garage door. Instead, your metal garage door will stand firm to the elements and may only need repainting if you scuff the material.
Durability is another benefit of metal garage doors, giving you peace of mind that it will stand up to bumps and heavy usage. There is no risk of buckling, warping or fracturing with metal garage doors, meaning that once your door is installed you have little more to think about.
---
If you're considering having a garage door installed for your property and you need help deciding on whether to go for a wooden or metal garage door, simply contact us at CDC Garage Doors today and we'll be happy to help. Our professional team can discuss your budget and requirements to help you find the ideal door for your property.