When confronted with the relentless forces of nature and the need for consistent, unwavering functionality, it becomes evident that a garage door should not merely be an afterthought – it must embody strength and resilience. This principle is at the core of Novoferm's collection of steel sectional garage doors, each meticulously designed to seamlessly withstand the elements while maintaining optimal performance.
Exceptional Robustness in Every Detail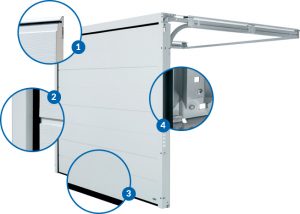 Recognising the challenges posed by the ever-changing outdoors, Novoferm has engineered a garage door with an exceptionally robust double-skinned and insulated design. This design is the embodiment of durability and is tailored to endure the most challenging weather conditions, ensuring your garage remains a protected haven for your vehicles and belongings.
Tailored Insulation
Understanding the varying insulation needs of different spaces, Novoferm offers door types that define the degree of insulation. These alternatives empower you to customise your selection based on your unique requirements. Opt for the premium sectional door type iso 20 or elevate your insulation further with the deluxe door type iso 45. With its heightened insulation thickness, the iso 45 door type stands as the pinnacle of protection. What's more, both options come with a wide array of optional enhancements, allowing you to craft a door that perfectly suits your needs.
Precision in Craftsmanship
The Novoferm commitment to quality is evident in every facet of its steel sectional garage doors. Each iso 20 and iso 45 door section is meticulously constructed from hot galvanised thin steel sheet. The doors are then adorned with a resilient polyester-based pre-finished coat, ensuring not only durability but a visually appealing exterior. For those seeking a touch of nature-inspired elegance, the Golden Oak and Rosewood options offer a foil finished coating that seamlessly blends aesthetics with strength.
Guarding Against Corrosion
Novoferm leaves nothing to chance, especially when it comes to longevity. Not only are the door sections constructed with galvanised materials, but the angular frames, guide rails, and every fitting part on the garage door also undergo galvanisation. This proactive approach guards against the onset of rust, ensuring that your garage door remains reliable and free from corrosion for years to come.
A Decade of Confidence
Your investment in Novoferm's steel sectional garage doors is further reinforced by a decade-long guarantee. This assurance reflects the brand's unwavering commitment to providing enduring quality and performance. With Novoferm, you're not just investing in a garage door – you're investing in years of pleasure, satisfaction, and peace of mind.
As you contemplate the harmony between resilience and functionality, Novoferm's steel sectional garage doors emerge as the ultimate solution. Choose a door that defies the elements, balances insulation with aesthetics, and stands as a testament to meticulous craftsmanship.
Reach out to us at 01737 831 467 to explore the range of options and embark on a journey toward a garage door that delivers on every front.