Side Hinged Doors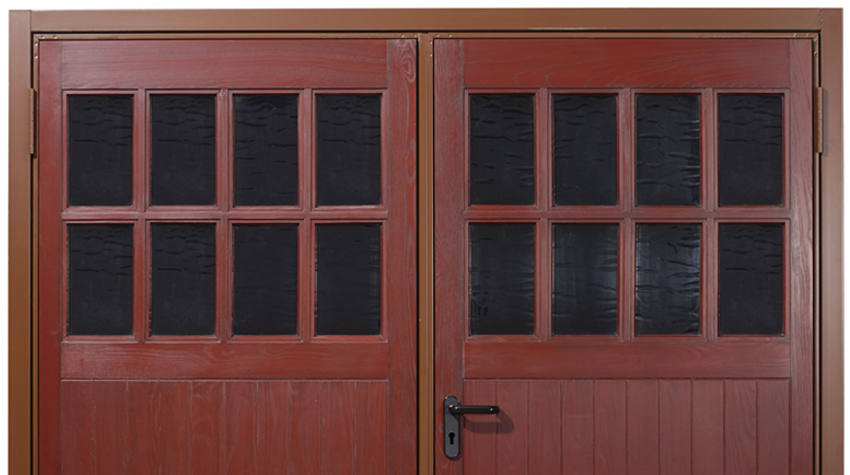 The CDC range of traditional G.R.P. side hinged garage doors and a matching Verwood style personnel door combine all the advantages and practicality of G.R.P. with the convenience of a tried and tested form of operation.
All our garage doors are hand made to order and are manufactured and finished to a very high specification. Our side hinged garage doors have G.R.P. panels built onto individual steel frames preventing any distortion and have an additional flow coat applied to the back of every door for improved aesthetic appearance.
As standard, all side hinged garage doors include: heavy duty steel hinges, a pair of solid garage door stays, centre style for maximum security, weather seals, Euro dead locking latch, black lever handles inside and out and are supplied pre-fitted with frames for ease of installation.
Side hinged garage doors are manufactured with equal sized leaves and open outwards to maximise available clear space inside the garage. As standard the right hand leaf (viewed externally) opens first – left hand leaf opening is available on request.
Key features
Matching Verwood style personnel entry door.
Centre style between leaves for maximum security – preventing forced entry attempts.
Weather seals between frame and leaves for draught reduction.
Heavy duty steel hinges for maximum security and reliable operation.
Euro dead locking latch and black lever handles inside and out – as standard.
Optional range of coloured lever handles available.
Contact our Expert Team for Advice
If you would like to find out more about any item from our extensive range of garage doors, please don't hesitate to call us on 0800 294 2002 and we will be happy to help.
Alternative manufacturer for Side Hinged Doors: Novoferm