Is your garage letting down the kerb appeal of your home? As any estate agent will tell you, first impressions matter enormously when buyers step through your front gate. So, making sure your home puts its best face forward is crucial to achieving a quick sale at the best possible price.
Your garage can play a starring role in creating fantastic kerb appeal or it can be an eyesore that turns buyers away. As one of the features that buyers notice immediately as they drive up to your home, an attractive, well-maintained garage door and interior creates instant buyer appeal. However, a shabby, dated garage screams that your home needs work and TLC.
Take a moment to view your garage through the eyes of potential buyers. Could it use some sprucing up to complement your home's exterior? Does the garage door operate smoothly or does it stick and squeak?
Taking steps to maximise your garage's visual impact can directly boost the value of your property in the minds of buyers. Let's get started on essential ways to improve the kerb appeal of your home through your garage.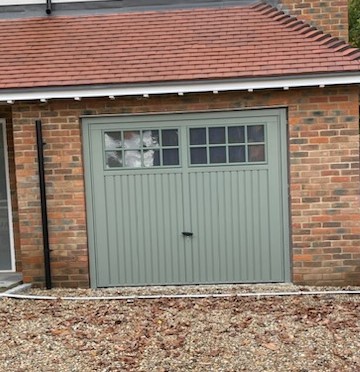 Refresh and Update Your Garage Door
Your garage door is one of the first features buyers notice as they approach your home and an attractive, modern-looking door makes a terrific impression. When preparing to sell your house, take a fresh look at your garage door. Does it complement your home's exterior colour scheme and architecture or clash with it? Neutral coloured doors in shades like black, white or grey tend to have widespread appeal.
You may also want to consider replacing older or damaged doors with a brand-new style. Up and over and timber doors are trending. Select a door design that flatters your home's look, whether classic Georgian or sleek modern.
Functionality and Maintenance Are Key
An attractive garage door only goes so far if it doesn't also operate flawlessly. Sticking, hard-to-open doors will be seen as a nuisance by homebuyers who expect everything to be in good working order.
Test your garage door to make sure it glides open and closed with ease. Listen for grinding and squeaking sounds that signal a need for maintenance. If the door binds, sticks or scrapes the ground, inspect the tracks and hardware. Make any necessary adjustments or repairs.
Consider investing in an automatic garage door if you don't already have one. The convenience of a button or remote-operated door adds appeal for buyers. New openers are also much quieter than older chain-drive models, an added benefit.
Don't neglect general upkeep either. Wash the garage door periodically to remove dirt and grime that accumulates over time. Touch up flaking paint and replace weatherstripping around the door if gaps appear. Lubricate rollers and hinges as needed to prevent noise.
The Right Garage Boosts Home Value
All of your hard work to upgrade and showcase your garage pays huge dividends when it comes to home value and saleability. Remember, kerb appeal directly impacts the price buyers are willing to pay and how quickly your home sells.
As one of the features buyers notice immediately, an attractive, well-maintained garage door and organised interior makes an outstanding first impression. It signals that your home is meticulously cared for and move-in ready.
By investing time and money into improving your garage, you can increase the perceived value and marketability of your entire property. Kerb appeal upgrades result in more interested buyers, shorter market time, and top dollar when you sell your home.
A beautifully designed garage that complements your home's exterior provides instant kerb appeal. Upgrading and showcasing this space helps attract more buyers and adds value to your property when it's time to sell. Let CDC Garage Doors help you transform your garage into a showcase feature. Contact us today to discuss garage makeovers and installation of new doors that will boost your home's street presence.