Hörmann Garage Doors
CDC Garage Doors supplies, installs and repairs high quality garage doors. We have more than 25 years' experience in the industry working with all the best manufacturers, including Hörmann garage doors.
We pride ourselves on our ability to provide exceptional levels of customer service and satisfaction.
Hörmann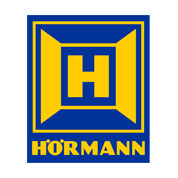 Hörmann is a family-owned company established more than 80 years ago in Germany. The company pioneered the production of the up and over garage door in the 1950s and is now a hugely successful multinational operation.
Still going strong and innovating with products, Hörmann is one of the largest manufacturers of premium garage doors in Europe, creating everything from steel and aluminium entrance and side doors to electric gates and industrial doors. Utilising modern manufacturing processes in facilities across Germany, Hörmann produce doors for both residential and commercial use.
The company has an extensive range of products, including:
Sectional garage doors – with one of the largest ranges of sectional garage doors available in Europe, you can be sure you'll find the door you're looking for. This kind of door opens vertically providing you with more space both inside and outside of your garage – this makes it a very popular choice
Up and over garage doors – with a choice of either canopy or retractable gear operating mechanisms, these garage doors are highly durable and reliable, providing the perfect combination of security and aesthetics
RollMatic roller garage doors – this impressive space-saving design is electrically operated and made from double-skinned aluminium foam-filled slats; this provides a strong external finish. The RollMatic can be installed to fit any shape of garage, so no matter if you have a unique garage, this could be ideal for you
Side sliding sectional doors – you might not immediately think of side sliding sectional doors but they can actually be a very convenient solution for a number of homes. These doors can provide you with quick access as well as making the optimal use of space
Contact Us
For more information on any of the Hörmann garage door products we provide, please get in contact with us today.