Up and Over Garage Doors – Novoferm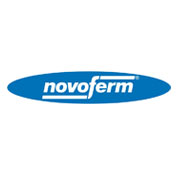 At CDC Garage Doors one of the most popular products that we supply are the Novoferm up and over garage doors. These attractive and expertly constructed doors can be ideal for almost any home.
CDC has a team of garage door specialists who would be delighted to share their experience and offer impartial advice. Novoferm is one of the many premium brands that we work with, so whether you've already settled on buying one of their models or you're just gathering information, we are happy to help.
Based in Dorset, we have supplied doors to homes throughout the region including everywhere from Bournemouth and Poole to Wimborne and Christchurch. Please read on for more details on the variety of doors that we have available.
More about Novoferm
Novoferm is one of the largest manufactures of garage doors, frames and doors in Europe – the company was formed back in 1995. The business focuses on creating products for both residential and commercial premises, working across the world in Asia, America and beyond.
Like CDC Garage Doors, Novoferm places an emphasis on the quality of its products as well as its customer service. We have built up an excellent working relationship with the business and we are proud to offer their fantastic products.
Our Range of Products
No matter what kind of garage door you're looking for, Novoferm has something for you. The doors can be supplied with either a manual or an automatic mechanism, so you can choose the perfect garage door for your needs. Whether you're looking to match the aesthetic of a Georgian house or your home is a much more modern design, there will be a model to fit. We would be happy to talk you through the variety of options, so don't hesitate to get in touch today.
Find Out More
For more details you can send us a message through our contact page or email directly to info@cdcgaragedoors.co.uk and we will get back to you as soon as possible. Alternatively you can call us on 0800 292 2002 to get through to a friendly member of staff. Our team has the knowledge to offer any advice you need on Novoferm up and over garage doors, and we would be happy to hear from you.